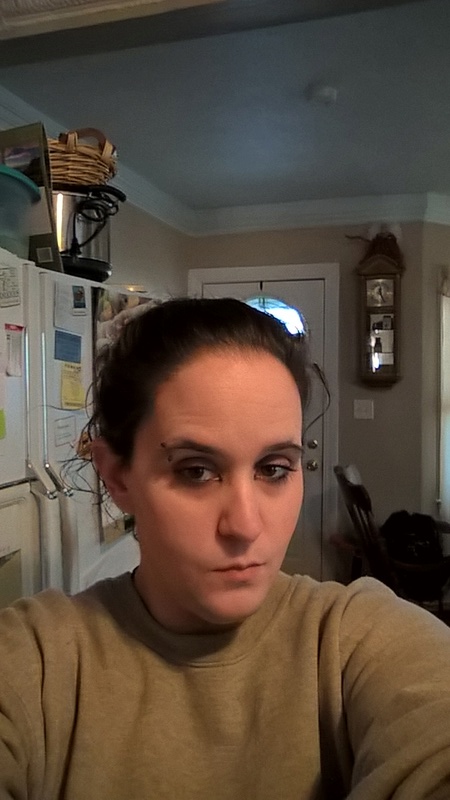 (Not sure why this posted sideways but eh)
Yes, that's me. The Lady behind Draven and Drayga. The guru of BC. I figured I may as well introduce the real me among the masses.
Name: Amanda
Birthday: April, 17th (I will be turning 32 this year. Oy)
Gender: Female (Obviously)
Orientation: Straight
Status: Single mother to a beautiful soon to be 4 year old little girl named Kyra (Pronounced Kir-rah)
Hobbies: Where to start? Writing, Gaming (Yes I am a Gamer chick), reading, movies, music, cooking and baking. Generally anything creative.
Interests: Tattoos (I have 13), writing, reading, music (mostly rock or metal but I listen to everything), action horror and martial arts movies with the odd romantic comedy thrown in every six months or so. Lol. I really am a tomboy. Love cars and trucks, especially the antiques. I don't own nor wear dresses. My favorite colors are black and red (in case you couldnt tell by the theme on BC).
Me and my monkey. (: You also can't tell in this pic but I have an undercut. About two inches above my ears and down is shaved. Seems to help a bit with the migraines. So far.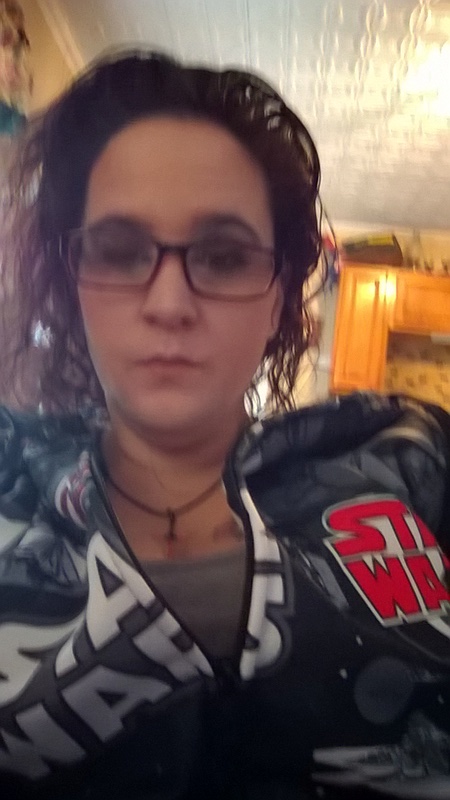 Another. And yes I have both a Star Wars hoodie on and am wearing a necklace that is Kylo Rens lightsaber. Nerd alert!
Music: Some of my favorite bands and songs inspire a lot of my writings. It can range from anything between classic rock all the way to the occasional rap song (though I do not listen to the latter too often, tends to make my ears bleed). Some of my favorite artists are as follows:

- Motionless in White
- Slipknot
- Stone Sour
- Evanescence
- Godsmack
- Korn
- A Perfect Circle
- Tool
- Nine Inch Nails
- Stevie Nicks
- KISS
- Lacuna Coil
- Insane Clown Posse
- Twiztid
- Rush
- Ariana Grande (There's only like two songs by her that I like)
- In This Moment
- Axe Murder Boyz
- Mudvayne
- Heart
- Alice in Chains
- And various others. Way too many to list at once.

Movies: Huge movie fanatic. I love movies almost as much as I love music and books and I find it sparks the muse just as well, sometimes better. I watch pretty much anything except cheesy romance movies. Most of those just suck. I love action flicks, martial arts, horror and thriller the most. Anything with a good plot and storyline and some kick ass action. I am a big Donnie Yen fan. Fastest martial artist since the late great Bruce Lee.

TV: Since we do not have cable, or direct internet (I use my phone and it's Mobile Hotspot), I have taken to checking out TV shows on Youtube and if I like it, I will go out any start buying the series on DVD. A few of my favorite shows are Vikings. I own Seasons 1 - Part 1 of 4. American Horror Story. I own Seasons 2 - 5. Ghost Adventures own Seasons 1 - 6. I also love CSI and Criminal Minds. Was fascinated with watching the First 48 and any crime show. That stuff fascinates me, always has for as far back as I can remember. At the age of 4 I used to beg my mom to pull over so I could investigate road kill. Yeah, kind of creepy..

Books: Reading was one of my escapes besides writing. When I felt stressed or just wanted to relax and wasn't in the mood to write, I would pick up a book. Anne Rice and the Vampire Chronicles were the first books about Vampires that I read. I was probably 7, maybe 8 when I read Interview with the Vampire and got hooked. Though I have been fascinated with Vampires since I was about 4. I also enjoy the Anita Blake series by Laurrel K. Hamilton. The Dark Hunters by Sherilyn Kenyon and the Carpathian Novels by Christine Feehan. I'm a sap for those romance novels. Nora Roberts is awesome and her In Death books are among my top favorite. Goes with the whole criminalistics fascination.

Games: Oh do I enjoy my games, though not as much as I used to. A lot of RPG. A lot. Skyrim being the top. Mass Effect a close second. And Star Wars of course. Gotta throw that one probably at the top. And yes I am a Star Wars geek. Not as much as some, but enough. I also enjoy the occasional Zombie shooter. I suck fiercely at war games but picking off zombies with a sniper rifle in Left 4 Dead or Left 4 Dead 2 is rather enjoyable and something I am strangely good at. Assassin's Creed is pretty boss though I am not all that good with the whole stealth thing, its still fun.

Religion: Not many people like to talk about this subject. It is very touchy for a lot of people. Especially those with strong beliefs but I have a very open mind. I was born and raise Catholic until I was about 12. My belief just wasn't as strong as it used to be so I decided to do some searching. Found Wicca and was fascinated. Did some solitary studying, some minor dabbling. Nothing black. The thought of Black Magick has never appealed to me. I have always been drawn to Egyptian mythology, Celtic (Irish) Mythology and the Viking Mythology. I believe in past lives and reincarnation so perhaps I was apart of these cultures in my past lives. Do I believe in God? Honestly, I don't know. I believe in good and evil, Angels and Demons, so in a way I suppose. But I also believe there could be more than one God or Goddess. I believe in balance. Black and white, male and female. God and Goddess. There is not one without the other.

Foods: This used to be a very bad habit for me. I love food. More than I should which was why I ended up at 260lbs a year ago. I had surgery back in January of 2016 and lost about 100lbs. I am now 160 and view food a bit differently than I did back then. Yes I still love it but I have cut out a lot of fast food. Once in every so many months, sure, but it's never at McDonalds or Burger King which is mostly all processed crap. I try to go for the fresh places. Wendy's, Johnny Rockets, etc. I have developed a taste for home cooking. At least I know what is going in my food because I'm controlling it. Pizza and burgers are my weakness'. I can't eat the latter too much unless it's the size of a slider. And I used to be able to eat an entire small pizza by myself, now I'm lucky if I can eat two slices. But the bright side is I'm healthier. XD I'm a meat eater. I like trying different types of game. I've eaten venison, bison, and black bear. Black bear is pretty epic. I make some kick arse meatballs with venison, pork, veal and ground beef.

I think that's pretty much covered the rest of the bases. And this ended up more long-winded than I thought it was going to. Oops!


Similar topics
---
Permissions in this forum:
You
cannot
reply to topics in this forum